AdHoc Coffee - Journey To The Perfect Cup
The fragrance of freshly ground coffee beans – simply wonderful! And the invigorating specialities that confident coffee aficionados make out of them are even more delicious. AdHoc has your coffee needs met with their innovative and beautiful coffeeware.
AdHoc Mr Brew Coffee Maker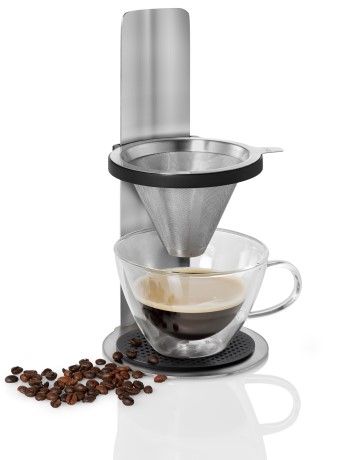 Pour over coffee accentuates the flavors of coffee beans and produces a smooth cup of coffee. It requires minimal equipment, but consumers might run into annoyances like having to deal with paper filters, or having a coffee maker than doesn't fit their cup. The MR. BREW coffee maker offers a solution, it utilizes a permanent stainless steel filter and is adjustable in height. Simply put your freshly ground coffee in the double-walled stainless steel filter, place the filter in the correct position using the magnetic height adjuster, position your favorite cup or a coffee pot underneath it, and pour hot water over the coffee grounds. The filter is made from double-walled, flavor-neutral stainless steel, and features fine micro-pores which allow the full flavor of the coffee through while capturing the coffee grounds. The size of the filter is sufficient for up to three cups of coffee. After brewing, the filter can be easily removed from the holder using its handle. The coffee grounds can then be disposed of, and it can be cleaned either by hand or in the dishwasher. The coffee maker is made from high quality stainless steel, looks great in the kitchen, and is always ready for use.
Shop Now >>
AdHoc MRS BEAN Coffee Grinder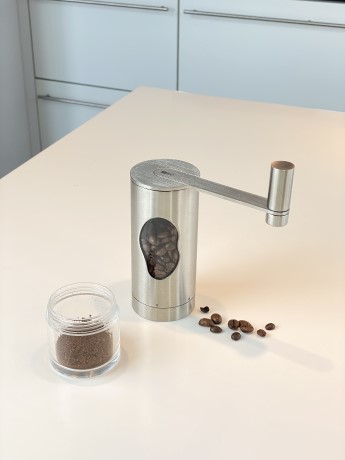 AdHoc developed the MRS. BEAN coffee grinder so that grinding your favorite varieties is effortless. It works manually using an energy-efficient crank handle but otherwise has nothing to do with great-grandma's old-fashioned hand grinder with its modern and stylish look in elegant stainless steel and acrylic design. MRS. BEAN is equipped with a high-performance CeraCutXL® grinder that preserves the flavor and produces a large volume of coffee grinds. With the help of the six PRECISE+® grinding settings on the outside, results can be achieved from powder-fine to coarse according to your preference and depending on which preparation method you are going to use. The grinder container holds approx. 50 grams of coffee beans.
Shop Now >>
AdHoc RAPIDO Milk Frother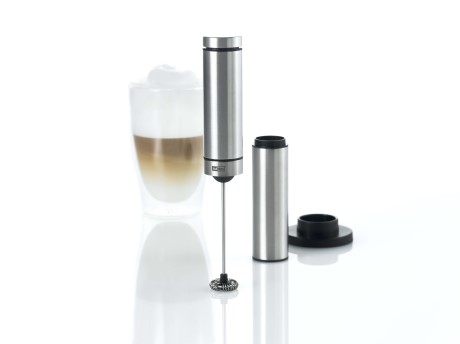 AdHoc's battery-powered milk frother RAPIDO prepares delicious frothy milk for latte, macchiato, cappuccino, and many more coffee specialties. Additionally, the RAPIDO milk frother can help to prepare milkshakes, cocktails, sauces, vinaigrettes or frothy soups. And if you feel like having a potato soup, RAPIDO will create your perfect whipped cream topping. Thanks to its powerful engine and robust shaft, it froths ingredients quickly– "Rapido". To clean the frother, simply rinse the shaft and whisk with water or remove the whisk for an intense cleaning in the dishwasher. RAPIDO can elegantly be stored in its protective cover or placed in its stand on your countertop for ease of use.
Shop Now >>
For trouble-free grinding, brewing and savouring of the favourite varieties, AdHoc developed functional products, convincing through innovative functions, appealing aesthetics and outstanding quality.